Carnival Tour shows you behind the scenes.
Be introduced to the Samba schools that create all the props. Carnival Tour also will give you the opportunity to try on glimmering outfits to know what it feels like to move your body in the frills enjoy a short samba class with the incredible Passista who is a professional samba dancer.
Guided Tour around Samba factory

Try a carnival costume and take a nice picture.

Know about Carnival culture

Short Samba Class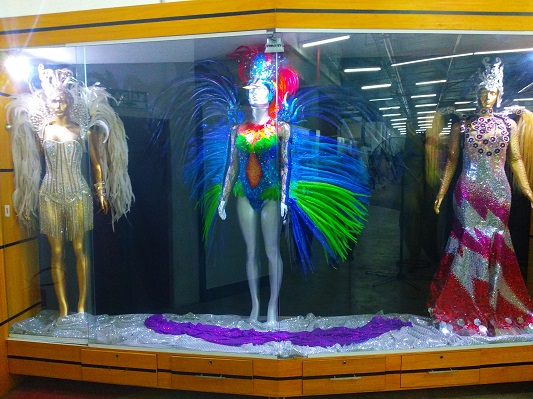 How heavy is a samba costume?
Carnival Tour is a great way to see the behind-the-scenes of our incredible Carnival. Also, a very knowledgeable tour guide will tell you about the business part of Carnival, crunching the number of the people involved, how long it takes to prepare for an event of this magnitude, the costs involved, plus much more information. Of course, do not be afraid to pick their brains with your questions.
Do not forget to strike a Samba pose when you are capturing the moment in crazy colors to post on your social media.
How to book my experience?
You buy the ticket with us and go there by yourself. We have a good deal with Viator, so the link below will take you to book your experience.
Experience the carnival outside of the Carnival period.
It is not all talking though, you will have to show Passista what you are made of, it`s an incredible carnival experience. She will demonstrate some of the basic samba steps and you will be right by her side. This will give you a glimpse of where these outstanding performers began their samba journeys.